Most recently, my brother and I have teamed up to start a new game company called Waystation Studios. Our first original title is a VR action/strategy game set in an alternate history where the Roman empire never fell. More info coming soon!
Project Colby
(Android/iOS)
Developed in partnership with Amazon and Filament Games, this ESL Prototype (Project Colby) was designed to help non-native English speakers develop fundamental speaking, reading, and listening skills through simulated conversation.
​
I did all of the environment and character modeling for this project, as well as rigging and scene management. Unfortunately the project was canceled, but I still remember it fondly!
Animation by Lynden Fenske. Textures by Chenya Chang.
Breaking Boundaries in Science
(Oculus Go)
I collaborated with Filament Games and Oculus on Breaking Boundaries in Science for GearVR and the Oculus Go. I contributed Technical Art support, UX Design, Lighting, and additional environment modeling (I modeled Jane Goodall's scenes). Featuring exclusive narration from Dame Jane Goodall herself!
Additional modeling by Lynden Fenske and Meghan Connor. Textures by Chenya Chang.
AR Card Demo
(Android/iOS)
I scripted and created the art for this AR Demo, utilizing the Vuforia AR framework in Unity. This was a demonstration of how a business card could be enhanced with an accompanying AR app that is accessed by a printed QR code.
Untitled Endless Runner
(Android/iOS)
This was a project that I worked on with Filament and ATENTIVmynd for a number of years. We were all very proud of the work we did on this, but ultimately it was cancelled before completion due to external factors. I developed the story and contributed all 3D modeling, animation, shader development, lighting and integration.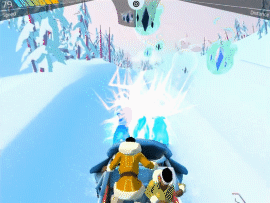 Vitual Reality Exploration
(Google Daydream)
I worked with Filament Games, Publications International and Britannica on a Virtual Reality book series built for Google Cardboard. I've continued to work on new editions and subjects in this line for a few years now. I've made twelve so far and am currently on the next batch! These are always a joy to work on, what with the subject matter being so diverse. I contributed art direction, modeling, lighting, technical art, and asset store integration. Textures by Roma Jensen.
Space
Tech Art / Art Direction / Modeling / Animation
Landmarks
Tech Art / Art Direction / Modeling / Animation
Dinosaurs
Tech Art / Art Direction / Modeling / Animation
Exploration
Tech Art / Art Direction / Modeling / Animation
Oceans
Tech Art / Art Direction / Modeling / Animation
Animals
Tech Art / Art Direction / Modeling / Animation
And here are some odds and ends of various character, UI and environment concepts and sketches I've made over the years...
I used Blender and After effects to make these UI, camera, and book animations for an SBIR proposal. Background Illustration by Roma Jensen, and book texture by Chenya Chang.